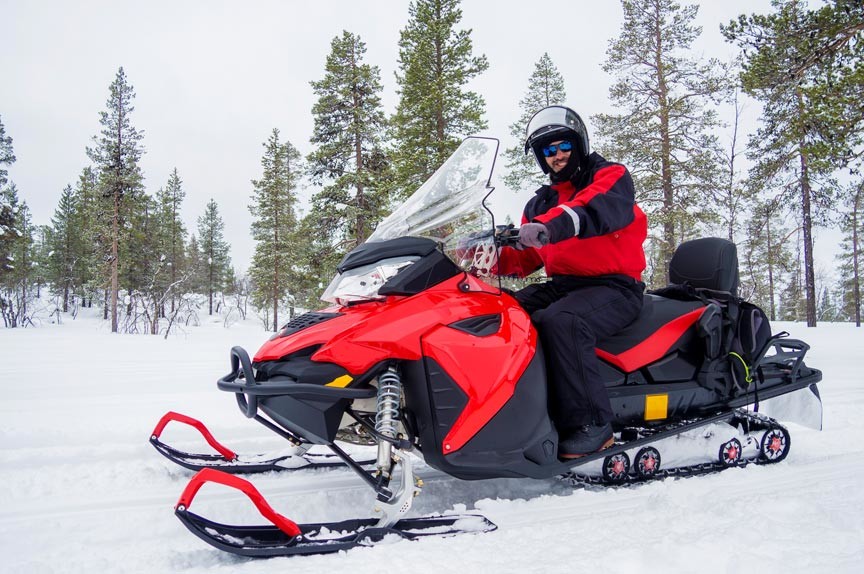 Ah, winter in Vermont: a great time to visit with plenty to do and see. Vermont snowmobile tours offer a fun and exciting – or even relaxing – way to get out and experience our lovely state's winter woods!
Snowmobiling is often thought of as a high-speed adventure through deep drifts and over lumpy moguls. While that can certainly be a lot of fun, not all snowmobile experiences have to be that way.
If you've never ridden on a snowmobile, you really should. They're a bit like a cross between a sled and a motorcycle. Now how can that not be a good time?
Luckily, Vermont snowmobile tours are available just ten minutes away from Deer Brook Inn, our Woodstock, Vermont B&B!
Vermont Snowmobile Tours
Snowmobile Vermont, one of Vermont's oldest snowmobile tour operators, offers two tours in our area:
Mountain Snowmobile Tour – 1 Hour
This tour is a lovely, scenic trip through the woods on 5 acres of groomed ski trails. It's also a great way to learn how to drive a snowmobile, with private instruction available.
Back Country Snowmobile Tour – 2 Hours
Take an adventurous 25-mile journey through the Calvin Coolidge State Forest on the Vermont State trail system. You can go at your own pace or challenge yourself on the varied terrain. Food and drink is available for this tour. Learn more.
Both tours include use of boots and helmets. Snowsuits rentals are also available. The base lodge is very comfortable and a great place to get warm and dry.
Snowmobile Vermont's tours are designed with both beginner and advanced riders in mind. You have the option of renting a single or double-rider snowmobile and can choose to drive your own or ride behind a guide.
Learn more about Snowmobile Vermont's snowmobile tours.
Vermont Flurry: Woodstock Snow Sculpture Festival 2019
February 15th to the 17th, 2019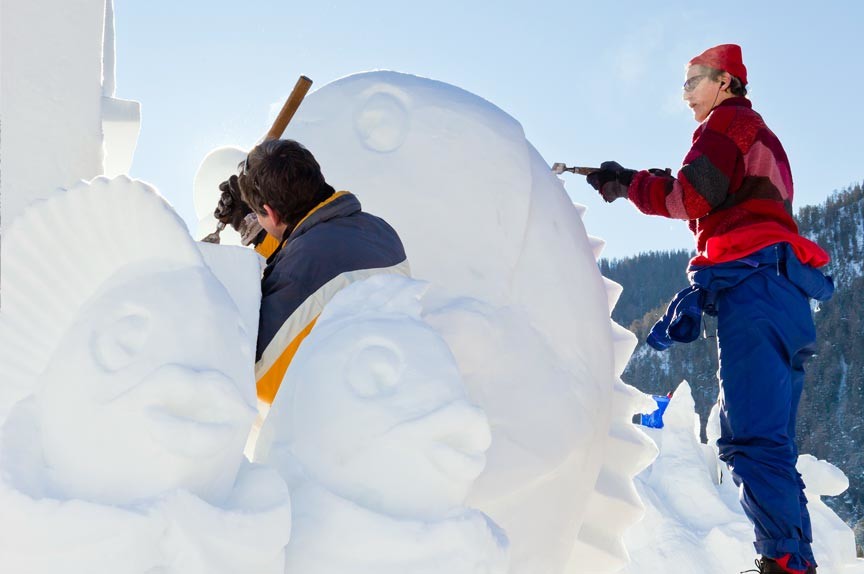 Come to Woodstock, VT on President's Day Weekend and see The Woodstock Village Green transformed into an icy sculpture gallery! Professional snow sculpting teams will compete to create large, stunning sculptures over a three-day period. Watch and vote for your favorite in the "Peoples' Choice" category.
The Vermont Flurry is a state-sanctioned snow sculpture contest. The winner will go on to compete in the U.S. National Snow Sculpting Competition in Lake Geneva, Wisconsin. The winners will be announced on Sunday, February 17th at 12:30pm.
Learn more at pentanglearts.org