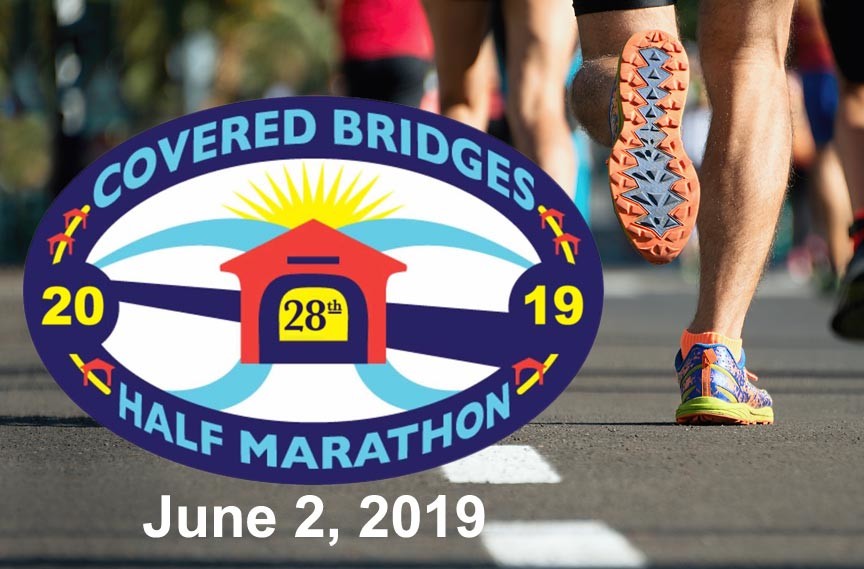 June is just around the corner (if you can believe it) and that means it's almost time for Covered Bridges Half Marathon 2019! This year's event is set to kick off from the Suicide Six Ski Area at 8:15 am, on June 2nd, 2019.
The Covered Bridges Half Marathon is a popular, annual race that takes runners through open farmland, along the Ottauquechee River. The point-to-point, 13.1 mile, USATF-certified course runs eastward from Suicide Six Ski Area to the Quechee Polo Field.
The race gets its name from three covered bridges that make up part of the course: Middle Covered Bridge, Taftsville Covered Bridge, and Quechee Covered Bridge. (learn more about the area's 7 covered bridges)
The Woodstock area sees some of its best weather of the year in June. Covered Bridges race day, which is always the first Sunday of June, sees an average high of 73ºF – beautiful!
In fact, one of the reason's the race is so popular has to be rural Vermont's scenic, pastoral beauty. Woodstock is in the hilly, south-central portion of Vermont, around 10 miles from the New Hampshire border. The race course's gentle topography drops around 200 feet from start to finish, with only a couple of climbs standing out.
Covered Bridges Half Marathon is also a community-based fund raiser. The annual event has raised more than $2 million for local non-profits since 1994.
Covered Bridges Half Marathon 2019
Race Start: Sunday, June 2, 2019, 8:15am
Suicide Six Ski Area – 247 Stage Rd, South Pomfret, VT 05067
Learn more at cbhm.com. You can also follow the event Facebook, Twitter, and Instagram.
If you were hoping to participate but haven't registered yet, I'm afraid you're out of luck. Registration for the Half Marathon is offered six months in advance and fills very quickly. Sometimes within mere minutes. That doesn't mean you can't come spectate, however!
So go ahead, come on out and support the runners as they race "the best 13.1 miles in New England!"
Woodstock VT Lodging
Deer Brook Inn offers four comfortable and stylish guest rooms located just a short 14 miles from the Covered Bridges starting line. Our fresh, locally sourced, organic breakfasts will get each and every day of your Woodstock getaway off to an eager and invigorating start. Book your stay at Deer Brook Inn, Woodstock VT bed and breakfast, today!