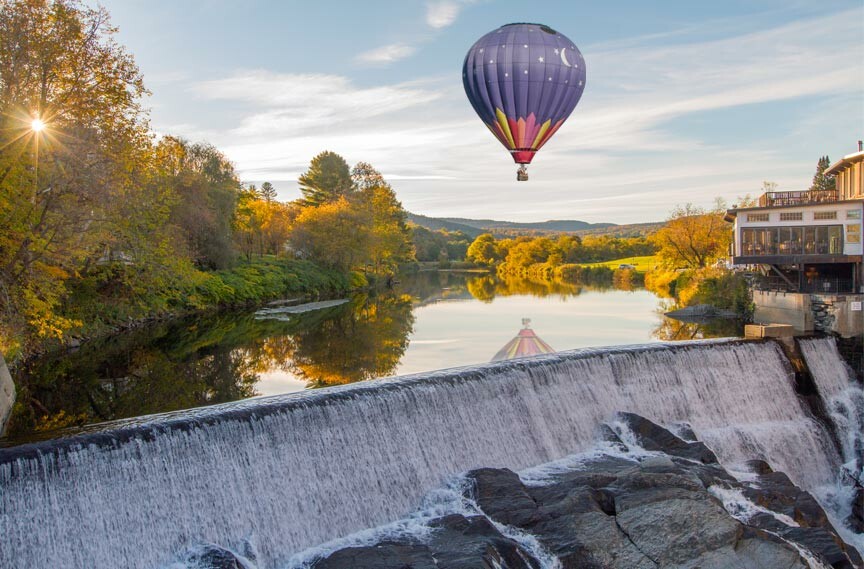 There's nothing quite like the beauty of Vermont's Woodstock region during autumn, especially when seen from above on a Quechee hot air balloon ride! If you're an unrepentant leaf-peeper, you'll adore this new and expansive perspective on Vermont's fantastic fall foliage.
There's nothing like a ride aboard a hot air balloon. Floating high and silently like a cloud over the peaceful world below. If you've been, then you know what I'm talking about. If you haven't, well – you really really should!
The serene, gentle beauty of a hot air balloon voyage is the real secret to its appeal. Planes are noisy, with air rushing past the fuselage and the sound of the engine. Hot air balloons make the occasional noise when the burner is activated but otherwise it's just you and the clouds.
Also, most planes have enclosed and claustrophobic passenger compartments fully separating you from what what little view you have of the landscape below. Not so during a hot air balloon ride! A balloon's passenger compartment is a large, sturdy basket suspended below the balloon and open to the air. It's just you and nothing but a few ropes to get in the way of those eye-popping, expansive views.
Vermont Fall Foliage Hot Air Balloon Tours
You may think of hot air ballooning as primarily a summer activity – and the activity is weather dependent. That being said, the companies offering Quechee hot air balloon rides operate year-round, which means fall foliage tours are most definitely on the menu!
Quechee Gorge needs no assistance to be gorgeous (no pun intended) and this is especially true during leaf-peeping season. Now imagine seeing all that stunning natural beauty from above, with no restriction on the view but the strength of your eyes.
Quechee Hot Air Balloon Rides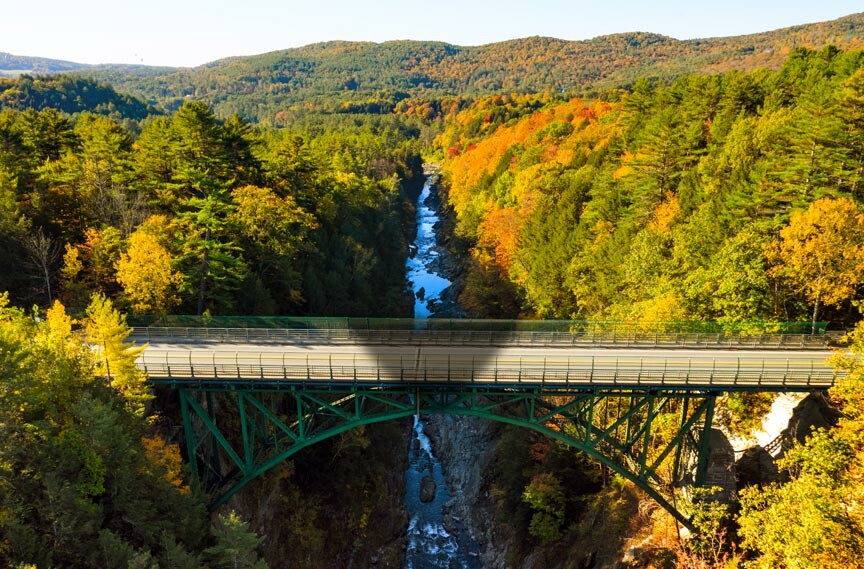 Your Quechee hot air balloon adventure includes not just the ride but the whole experience, from start to finish.
This means you'll be there when the balloon is unpacked, stretched out, and slowly filled with air. You wont believe just how big a hot air balloon really is until you're on the ground next to one as it fills.
Once the balloon is filled (first with a fan, then with heated air from the propane burner) it's into the basket with you and gently up, up, up! As the balloon gains altitude, the land below loses detail and the vista begins to open up. Killington, Camel's Hump, Mount Mansfield, and even views of New Hampshire's White Mountains can be seen from the basket on clear days.
Grab a leaf as you float by a treetop and keep your eyes peeled for unsuspecting wildlife. If the basket passes over any large, calm body of water, your pilot may attempt a quick "splash and dash" in the water.
All good things must come to an end and, so, too must your Quechee hot air balloon ride. Landings can be a little bumpy but not to worry. Your pilot is experienced and there are numerous safety-measures in place.
Hot air balloon adventures are a safe, fun, experience of a lifetime and Vermont's Quechee Gorge is the perfect setting. We even have two different local balloon companies to choose from. Plan your Vermont hot air balloon trip today!
Balloons of Vermont – (802) 369-0213
www.balloonsofvermont.com
Quechee Balloon Rides – (802) 698-3223
www.quecheeballoonrides.com
Woodstock VT Lodging
There's always something fun to do or see in the Woodstock VT area and Deer Brook Inn is here for you with the most comfortable accommodations outside your own home. Our stylish, 1820's farmhouse inn is only 20 minutes from Quechee Village Green! Enjoy supreme comfort, lip-smackingly delicious breakfasts, and a host of top-tier amenities when you book your stay at our Woodstock VT bed and breakfast, Deer Brook Inn!