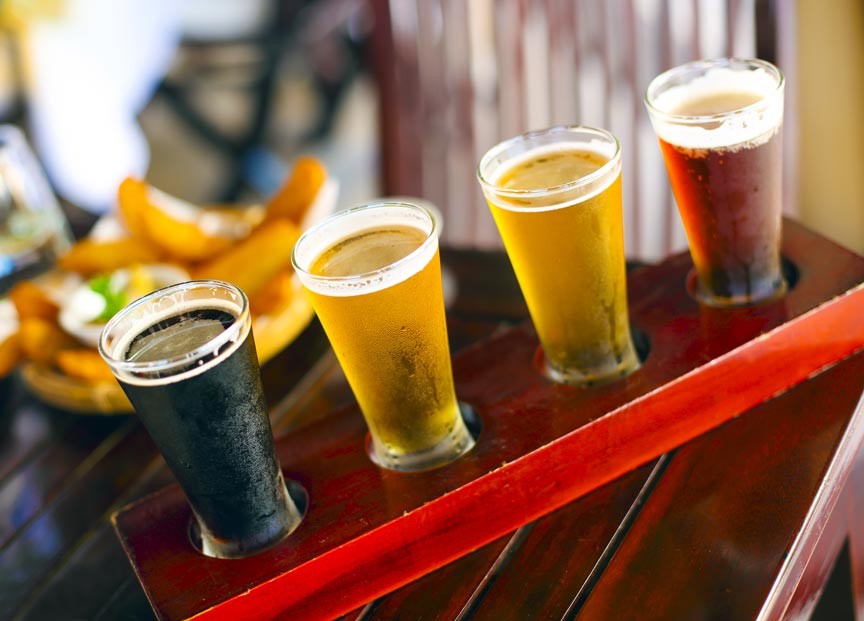 The Vermont craft beer scene just keeps growing and evolving. Even though we don't have any in town just yet, there are plenty of excellent craft breweries near Woodstock, VT.
Last month's post on the 2018 Vermont Brewers Festival At Killington made us realize we hadn't checked in on the Woodstock craft beer scene in over a year. A lot can happen in a year, especially when you're talking about Vermont craft breweries.
One new development was the opening of a new brewery in Killington, VT – the Killington Beer Company. Having a new craft brewery near Woodstock is exciting – especially one so close!
Killington Beer Company, like Killington Ski Area, is less than half an hour from the door of our Woodstock B&B, Deer Brook Inn. The only brewery closer is Long Trail Brewing, 5 minutes up the road in Bridgewater Corners.
Vermont Craft Beer Breweries Near Woodstock
Long Trail Brewing Company – longtrail.com
5520 US Rte. 4, Bridgewater Corners, Vermont 05035
Long Trail Brewing's riverside pub and restaurant offers a full menu and 10 or more taps of high-quality craft beer. A local favorite.
Killington Beer Company – www.killingtonbeer.com
53 Woods Road, Killington, VT 05751
Killington Beer Company is the newest craft brewery near Woodstock. The four-barrel brewery opened in January of 2018 but has already made its mark on the local Vermont craft beer scene. Their tasting room offers 6 taps and a beer engine for flights, pints, and beer to go.
Harpoon Brewery – www.harpoonbrewery.com
336 Ruth Carney Drive, Windsor, VT 05089
Boston's Harpoon Brewery has a second brewery in Windsor, Vermont. Stop in for a full selection of beers, delicious food, and guided brewery tours.
The Norwich Inn Brewery – www.norwichinn.com/brewery/
325 Main Street, Norwich, VT 05055
The Norwich Inn Brewery brews Jasper Murdock Ales, only available at the inn. Up to 8 different beers, including one cask ale, are on-tap at all times. 22 ounce bottles, 5 gallon kegs, and growlers are also available for purchase.
Hop'n Moose Brewing Company – hopnmoose.com
41 Center Street, Rutland, VT 05701
Hop'n Moose Brewing offers up to 12 in-house and guest beers on tap, plus wood-fired brick oven pizza, burgers, and more.
Vermont Craft Beer Breweries Near Woodstock
Though the list above is of craft breweries near Woodstock, VT – not in it – we do have a couple of stores in town that bring the the world's beers to us. Both offer a healthy selection of excellent craft beers in bottle, can, and from growler taps.
Woodstock Hops N' Barley – woodstockhopsnbarley.com
446 East Woodstock Road Woodstock, VT 05091
Woodstock Hops N' Barley was listed in Men's Journal article "50 Best Beer Stores in America" and one visit will tell you why. 13 rotating growler taps, over 700 different kinds of beer and wine, keg sales, home brewing supplies, and more.
Brewfest Beverage Company – www.brewfestbeverage.com
99 Main Street, Ludlow, VT 05149
Brewfest Beverage Company also offers an extensive selection of craft beer and fine wines from around the region and world. Rotating growler taps, brewing supplies, and more.
Woodstock Lodging
Deer Brook Inn offers distinctive yet casual Vermont lodging in our in Woodstock B&B. Our stylish, 1820's farmhouse inn offers has four spacious guest rooms and suites designed for your comfort and relaxation. Make your reservations today at Deer Brook Inn!