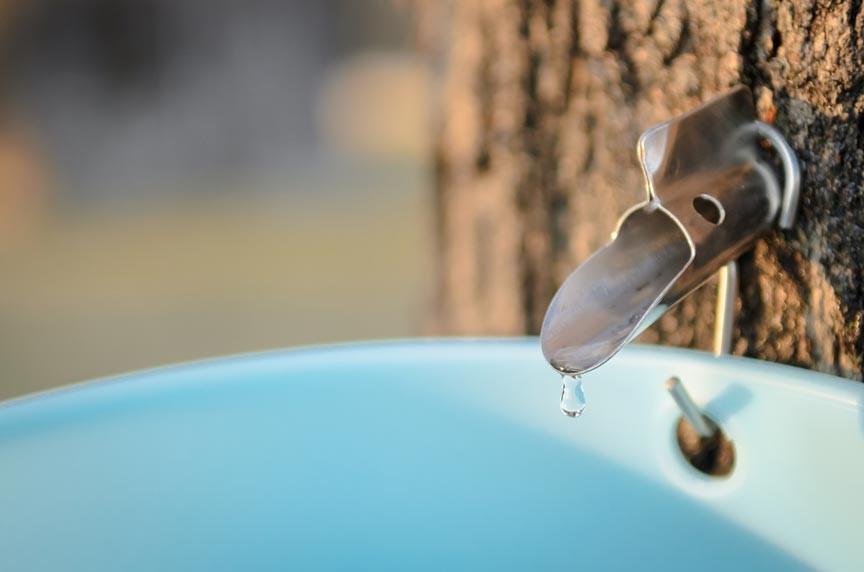 March is the month of maple and Vermont is celebrating it this year with the Maple Open House Weekend – March 24th and 25th, 2018. Visit Vermont's sugarhouses, learn the maple harvest process, and enjoy snacks and samples of pure, delicious, Vermont maple.
Every year, as we move towards spring and the days get warmer, the sap of the sugar maples begins to flow. Maple sugaring time! Taps driven into the trees begin to fill the buckets that hang from them. After that, it is only a matter of time before the sugar houses begin processing the sap and the delectable scent of maple fills the air. Mmmmmmmmmmm.
Vermont is the country's leading producer of maple syrup, producing 40% of the nation's supply. Our maple sugaring season typically runs from late February to April. Vermont celebrates the harvest every year with various events. Many local farms and communities have their own traditions and festivals throughout the season.
One of the bigger events, held statewide, is the Vermont Maple Open House Weekend.
During Maple Open House Weekend, local sugar makers open their sugar houses to visitors so they may this remarkable harvest first hand. We've all seen and enjoyed maple syrup but have you ever smelled maple steam rising from a sugar house? What about the traditional and simple yet divine taste of fresh maple sugar-on-snow?
Each sugar house is independently owned, so each experience is different. Some offer tours of their sugar houses and a sample of fresh syrup. Others offer a more festival-like atmosphere with a bands and activities like horse-drawn wagon rides. Others host pancake breakfasts or offer maple specialties like maple donuts, maple cookies, maple candy, or maple ice-cream.
There are several maple farms in the Woodstock area that are participating in the Vermont Maple Open House Weekend:
Papa John's Sugar Shack
254 Paradise Lane, Mount Holly, VT 05758
www.papajohnssugarshack.com
Green Mountain Sugar House
820 Route 100 North Ludlow, Vermont 05149
www.gmsh.com
Elm Grove Farm
3488 Cloudland Road, Pomfret, VT 05091
www.elmgrovefarmvt.com
Not all Vermont maple farms are participating in the Vermont Maple Open House Weekend – but you can be they're taking part in maple sugaring time! If you can't be here during Vermont Maple Open House Weekend or you're in an area with non-participating sugar houses, don't fret. Most sugar houses still welcome visitors at this time and offer their own attractions.
Below are two, local Woodstock maple farms that aren't participating but do welcome visitors maple during sugaring time:
Richardson Farm
18 Richardson Farm Road, Woodstock, VT 05091
www.richardsonfarmmaple.com
Sugarbush Cheese & Maple Farm
591 Sugarbush Farm Road, Woodstock, VT 05091
www.sugarbushfarm.com
Vermont Maple Open House Weekend 2018
March 24th and 25th, 2018
Visit the Vermont Maple Sugar Makers website for more information and a map of participating maple farms.
Woodstock Lodging
Deer Brook Inn is a "Vermont casual" inn, conveniently located for easy access to maple farms like Sugarbush, ski resorts like Killington, and the Appalachian trail. Covered bridges, great shopping, galleries, and dining – all at your feet when you book your stay at our Woodstock B&B, Deer Brook Inn!