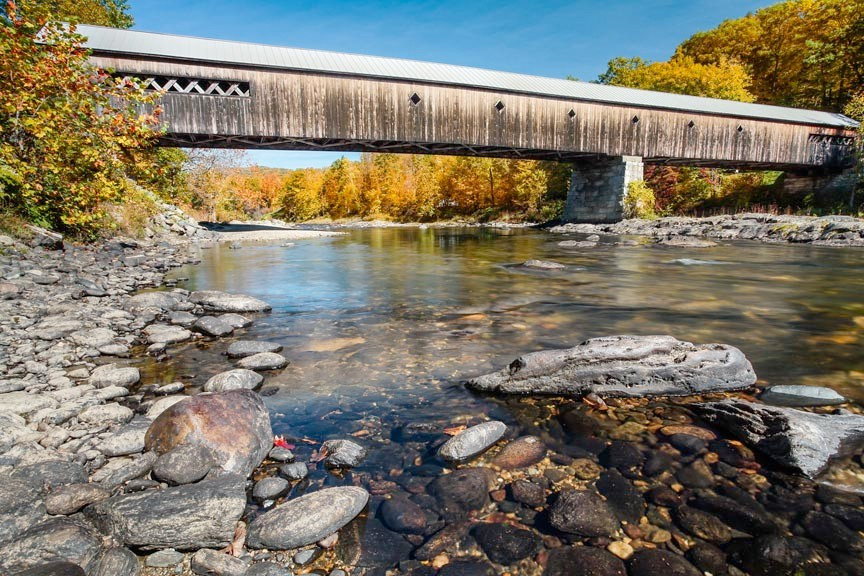 We're nearing the end of the season of the peak for Vermont fall foliage but that doesn't mean it isn't still beautiful out there, especially with all the wonderful covered bridges in our neck of the woods!
One of the nicest things about the Woodstock, Vermont area is that it's always scenic. Even the worst days of weather have a hard time spoiling the view. Some say it's the gently rolling countryside that makes the area so picturesque. Others point out our historic and friendly communities. Then, of course, there are the area's numerous covered bridges.
We tend to see the area's beauty as a combination of all these things and more – but those covered bridges are really neat looking, aren't they? This is especially true when they're surrounded by Vermont fall foliage.
Peak Vermont Fall Foliage
As we mentioned at the top, the peak for this year's Vermont fall foliage is generally past. While there is no one perfect time to see the fall foliage at its peak, there is a ballpark season for viewing the best of it.
The annual color change tends to begins in mid-September and last for the first two to three weeks of October. This varies by elevation, of course, progressing from north to south and higher to lower elevations during the season. Temperature variations and the effect of wind and rain play a role, too.
Even past peak season, however, the Woodstock area often retains beautiful displays of fall foliage well into November. Going out for a drive or day-trip to see the area remains a special treat even when the most spectacular autumn colors have faded.
Covered Bridges In and Near Woodstock, VT
Vermont is known for its covered bridges and the Woodstock area is no exception! Deer Brook Inn is not just surrounded by numerous covered bridges, we even a couple right here in town! As a result, our Woodstock B&B makes the perfect home base for viewing covered bridges and Vermont fall foliage.
Lincoln Covered Bridge – 2709 W Woodstock Rd, Woodstock, VT 05091
Middle Covered Bridge – Woodstock, VT 05091
Taftsville Covered Bridge – Taftsville, VT 05091
Quechee Covered Bridge – 4 Waterman Hill Rd, White River Junction, VT 05001
Martins Mill Covered Bridge – Hartland, VT 05048
Willard Twin Covered Bridges – North Hartland, VT 05052
Windsor-Cornish Covered Bridge – Cornish, NH 03745
We've posted the details for a fun, covered bridges driving tour you can follow from directly Deer Brook Inn before.
Another option is to pick one or two bridges and plan a day around them and something else nearby. Quechee Covered Bridge, for example, is right next door to the Simon Pearce flagship store, restaurant, pub, and glassblowing workshop.
Whatever it is you enjoy most, Deer Brook Inn is here to help you plan for your best Vermont getaway ever. Book your stay with us today!