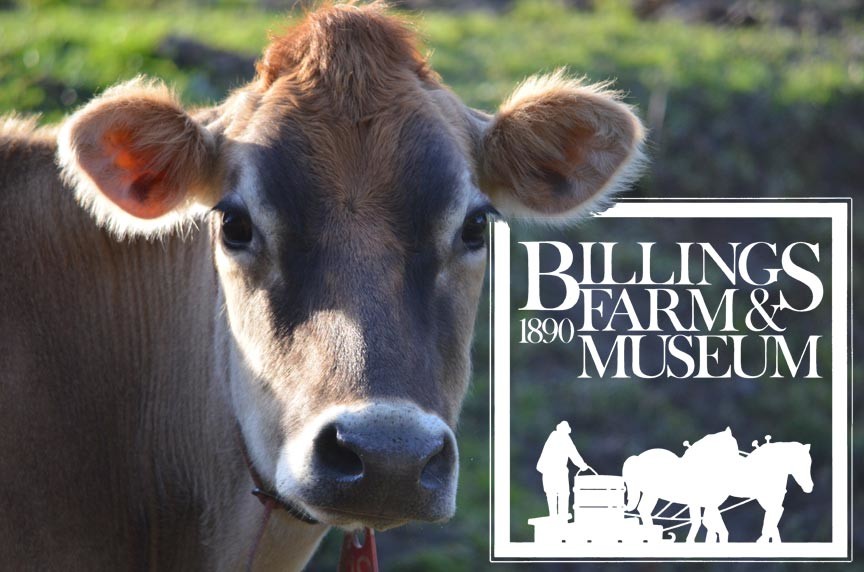 Ballet performances and film screenings may be unexpected at a "working dairy farm and historic house museum" but you'll find both – and more – this August at Billings Farm & Museum in Woodstock, VT!
Billings Farm & Museum is well known as both a Woodstock dairy farm and house museum. No one is that surprised to learn about its prize-winning Jersey cows, draft horses, sheep, and delicious, 100% raw-milk cheddar cheese. Folks come from all around to get a sense of life in the 1890's and a taste of rural Vermont's undying spirit.
The historic farm was established in 1871 and continues to practice 19th century land stewardship traditions. The restored Billings Farm house and barns contain exhibits that illustrate what life was like in the 1890's.
But that's not all you'll find at Billings Farm & Museum!
Billings Farm hosts a wide variety of special events throughout the year, and not all of them are intuitively "farm" related. Summer months are particularly active. Take a look at what August has to offer!
August 2018 Events at Billings Farm & Museum
Annual Quilt Exhibition – July 28th through September 16th
The annual Billings Farm Quilt Exhibition is a juried exhibition of colorful quilts made by the quilters of Windsor County. This event also includes quilting demonstrations, activities, and a variety of "challenge" quilts.
Farm to Ballet 2018 – August 4th, 6:30 p.m.
Farm to Ballet uses classical ballet pieces to tell the story of three seasons on a Vermont farm. The performance is accompanied by a live string sextet playing Vivaldi. Audience members bring their own chairs and blankets to sit on. You may also bring your own snack or purchase food at the show.
Antique Tractor Day – August 5th, 10am to 3:30pm
Restored tractors from the 1920s to the 1970s will be on display, along with a tractor parade at 1pm, tractor-drawn wagon rides, and pedal tractor pulls for the kids!
Garden Tour – August 7th, 14th, 21st, & 28th, 1pm to 3pm
Come explore both Billings Farm's kitchen garden and the Marsh-Billings-Rockefeller National Historical Park's formal gardens. Sample garden fresh snacks and create your own flower arrangement from the cutting garden to take home.
Woodstock Vermont Summer Film Series Presents "Menashe" August 11th, 5pm & 7pm
Five award-winning films make up the first annual Woodstock Vermont Summer Film Series, May through September 2018. August's offering is "Menashe:" a good-hearted but somewhat hapless grocery store clerk, living in New York's notoriously secretive Hasidic Jewish community, struggles against tradition to keep custody of his only son after his wife passes away.
Heritage Chicken Day – August 18th, 10am to 5pm
See a variety of heritage chicken breeds and learn about their unique traits and personalities. Fun facts about chickens and eggs. Chicken-themed games and crafts.
Farm House/Manor House – August 18th, 1pm to 3pm
Explore the unique differences of two historic homes: the solid yet utilitartian Billings farmhouse, and the superb local craftsmanship of Billings Mansion. Reservations recommended: 802-457-3368 ext. 222.
Billings Farm & Museum
69 Old River Road, Woodstock, VT
Visit the Billings Farm & Museum website. You can also follow the farm and museum on Facebook.
Woodstock VT Lodging
Deer Brook Inn is your home away from home whenever you're in the Woodstock area. Our 4 decidedly comfy guest rooms and suites include en suite bathrooms, in-room heating/air conditioning, high-speed WiFi, and more. And all within the charming surroundings of our 1820's farmhouse! Book your stay at Deer Brook Inn today.