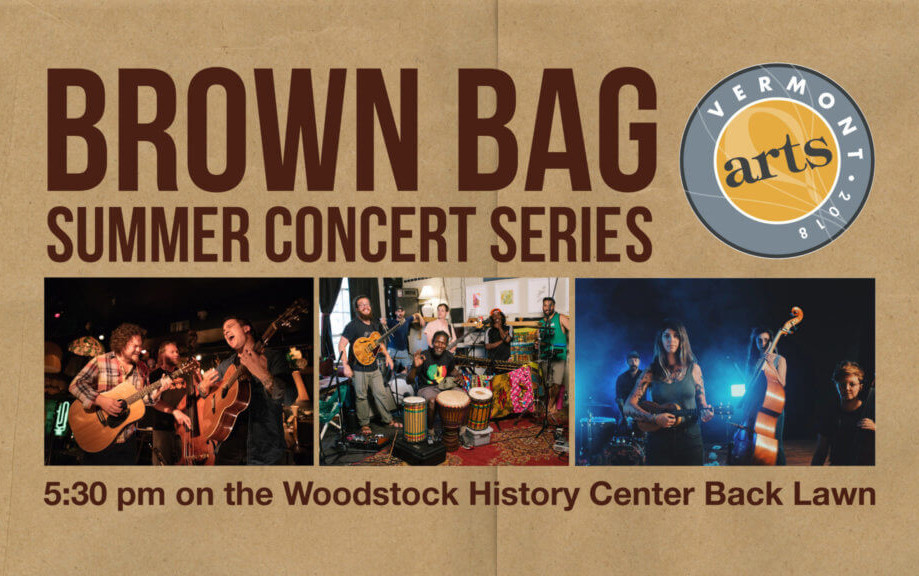 Looking for a fun and inexpensive way to liven up a Friday evening? How about an evening of food, drink, and FREE live music at a Pentangle Arts Brown Bag Concert! Brown Bag Concerts are held Fridays, 5:30pm, July 13th through August 31st, on the Woodstock History Center back lawn.
Pentangle Arts Brawn Bag Concerts are an annual series of free live music performances in Woodstock, VT. Area residents and visitors have been enjoyed the summer concert series for over 35 years, now!
The concert series is called "brown bag" because, although they're free, donations for the Woodstock Food Shelf are encouraged. Fill a brown paper bag with canned food, pasta, oatmeal, or what have you to one of the concerts, and know that it goes to fight hunger. They even give away brown bags at the shows so you can take it home and fill it for the next show.

Speaking of hunger, Brown Bag concerts also feature food and wine sales courtesy of Woodstock's own Bentleys Restaurant!
Pentangle Arts Brown Bag Concerts primarily feature musicians from the region. The concerts are quite popular, held on the Woodstock History Center Back Lawn right next to the beautiful Ottauquechee River. It's a picnic-festival atmosphere with blankets, lawn chairs, and a large, lively multi-generational audience. People dance, clap, picnic with their friends and neighbors, and generally have a great time.
Pentangle Arts 2018 Brown Bag Concert Series
Va-et-vient: Quebecois, Folk – July 13
Marc Berger and Ride: American Roots – July 20
John O'Connor and Nat Williams: Folk – July 27
The Huntress and Holder of Hands: Post-Metal, Blues, Americana – August 3
Ashley Storrow Trio: Acoustic Folk – August 10
Sabouyouma Afro-Funk Band: Traditional West African Rhythms, Funk, Reggae, Blues, Jazz – August 17
Amythyst Kiah: Americana, Southern Roots, Alt-Country, Blues – August 24
The DuPont Brothers: Indie, Folk, Rock – August 31
Pentangle Arts 2018 Brown Bag Concerts
Fridays, 5:30pm, July 13th through August 31st, on the back lawn of the Woodstock History Center: 26 Elm St, Woodstock, VT 05091. Learn more online at the Pentangle Arts Council website.
Pentangle Arts Council also presents a classical music series of concerts, movies, theater productions, and much more.
Woodstock VT Lodging
Deer Brook Inn is just minutes from Pentangle Arts Brown Bag Concerts in Woodstock. In fact, our convenient location lays the best of the Woodstock area out at your feet. Quechee Gorge, Lebanon Opera House, Billings Farm, Simon Pearce, ten covered bridges, and much more. Choose your Deer Brook Inn guest room or suite and book your stay today!