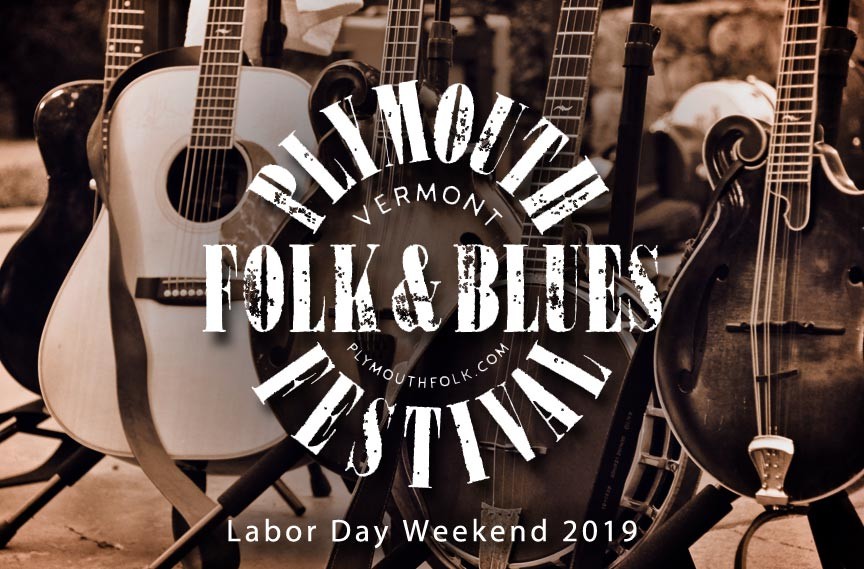 Come out for Plymouth Folk and Blues Festival 2019! The Labor Day weekend festival features both regional and nationally known musicians at the Calvin Coolidge State Historic Site in Plymouth, VT. August 31st and September 1st, 2019.
Plymouth Folk and Blues Festival is a free, Labor Day weekend celebration of American roots music. This year's lineup includes such nationally known stars as Dan Weber, Jay Psaros, and The Whispering Tree. You'll also be treated to regional favorites like The Milkhouse Heaters, Zack Dupont, and The Kennedys.
The festival is spread over two days, with a Saturday night Jam session hosted by Jay Ottaway at its center. This Jam Session is easily the festival highlight as anyone with an instrument and some inspiration can join. You never know who will appear on stage – maybe even you!
Plymouth Folk and Blues Festival 2019 Lineup
Saturday, August 31st – 2pm to 5pm
Dan Weber – 2pm
Jay Psaros – 3pm
The Whispering Tree – 4pm
Saturday Night Jam Session – 8pm
Sunday, September 1st – 2pm to 5pm
The Milkhouse Heaters – 2pm
Zack Dupont – 3pm
The Kennedys – 4pm
Plymouth Folk and Blues Festival 2019
Labor Day Weekend: August 31st and September 1st – 2pm to 5pm both days
Entry is free but the organizers are requesting that attendees bring non-perishable food items to help support the Vermont Food Bank food drive. The concert rain venue is Plymouth Notch's historic 1840 Union Christian Church.
Visit www.plymouthfolk.com for more Plymouth Folk and Blues Festival details. You can also follow the festival on Facebook.
Exploring Plymouth
One of the best parts of the Folk and Blues Festival, beyond all the great music, is its location. Plymouth, VT is home to Plymouth Notch and The President Calvin Coolidge Homestead.
Calvin Coolidge, our nation's 30th president, was born right here in Plymouth Notch in 1872. The village was the site of his 1923 presidential swearing-in ceremony, and also home to his 1924 Summer White House.
The festival's sensible afternoon hours provide a perfect opportunity for exploring the area and all it has to offer. Highly recommended.
This historic Vermont village and presidential birthplace, with 13 original buildings on over 600 acres, is one of the best preserved in the nation. Visitors to Plymouth Notch will see Calvin Coolidge's birthplace much as it was during his life. The Coolidge homestead is here, along with the homes of their neighbors, a general store, one-room schoolhouse, church, Summer White House, and more. You can even visit the President's grave, located in the Plymouth cemetery.
The Plymouth Cheese Factory
One of the most popular attractions in Plymouth is the Plymouth Cheese Factory.
John Coolidge, Calvin Coolidge's father, started the Plymouth Cheese Factory in 1890. The factory is still in operation today, making it the country's second oldest cheese producer!
Visitors to the factory can enjoy a tour, onsite museum, and delicious samples of some of the country's finest cheese.
Plymouth Lodging
Plymouth, with all its wonderful history and the festival, is only 9 miles from Deer Brook Inn – less than 15 minutes away. Our charmingly restored, historic, 1820's farmhouse offers spacious guest rooms and suites with en suite bathrooms, delicious breakfasts, and a local's knowledge of the Woodstock area. Book your stay at Deer Brook Inn today!