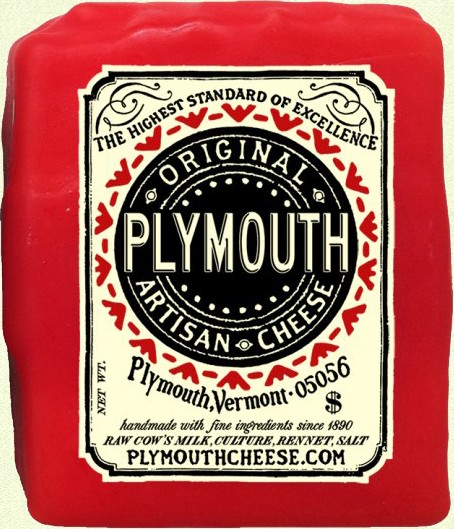 Visit the second oldest cheese-maker in the U.S., the Plymouth Cheese Factory in Plymouth Notch, Vermont, for a tour, onsite museum, and – of course! – cheese samples!
The Plymouth Cheese Factory in Plymouth Notch opened over one hundred years ago, in 1890. The factory was started by John Coolidge, the father of Calvin Coolidge, 30th President of the United States, and continues to make cheese to this day.
It is said that Julia Child considered Plymouth Cheese her favorite – and who can blame her! The cheese-making tradition of Plymouth Cheese Factory goes back well over 125 years to a recipe that arrived with the first European settlers to the New World. Of course, the process has changed somewhat over the years but they still craft, cut, and wax their cheeses by hand.
Plymouth Artisan Cheese is a granular curd cheese. Granular curd cheese is similar to cheddar but is created through the skillful cutting and continuous stirring of the curds. The cheese is made from additive-free, raw cow's milk. The milk comes from a single herd close to the factory. This locally-sourced approach ensures a freshness, consistency, and quality that mass produced cheeses simply cannot match.
There are a variety of Plymouth Artisan Cheeses styles, including smoked, herbed, peppered, cave-aged wheels, curds, and the classic, original Plymouth Cheese. The Original Plymouth Cheese is sharp and full-bodied with notes of butter, fruit and nuts. Mmmmm!
You can visit the Plymouth Cheese Factory! There's a small but fascinating on-site museum and an opportunity to take a self-guided cheese factory tour. Big windows look into the cheesemaking rooms and, if they're producing that day, you'll be able to watch the process first hand! If you really want to see the process, call ahead to see if they're going to be making cheese the day you hope to visit.
Best of all? They give out samples of their cheeses! They also have a well-stocked shop of their cheeses. If you're like me, you'll want to buy more than you think you need. This cheese has a way of disappearing faster than you think it will …
Plymouth Cheese Factory
106 Messer Hill Rd, Plymouth Notch, VT 05056
Summer Hours – 10am to 5pm
Winter Hours – 10am to 4pm
For more information, please visit: www.plymouthartisancheese.com
Plymouth Cheese Factory Lodging
Deer Brook Inn, in Woodstock, Vermont, is just 15 minutes drive from the historic Plymouth Cheese Factory. Our stylish, 1820's farmhouse inn offers distinctive yet Vermont casual lodging. Enjoy spacious rooms with ensuite bathrooms and individual thermostat control. Many have skylights for natural light by day and entrancing starscapes at night. Book tomorrow's relaxation today at Deer Brook Inn!