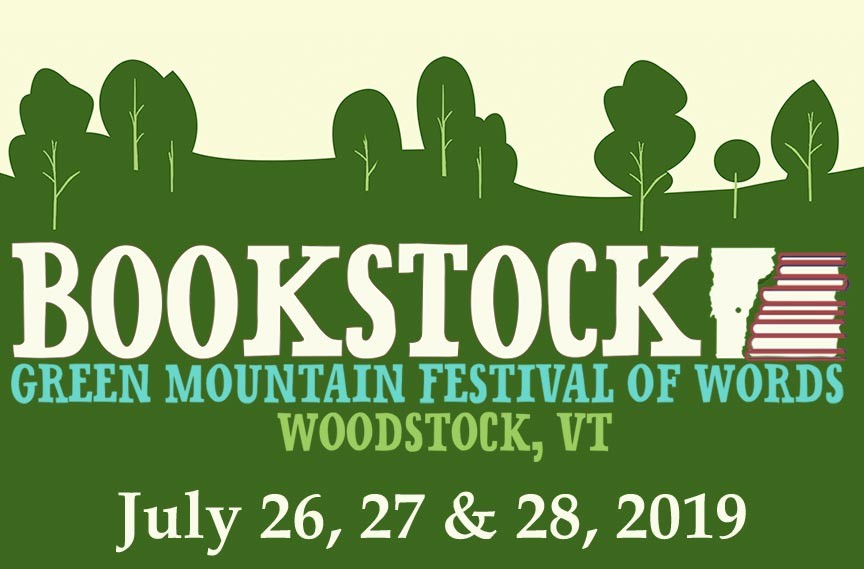 Bookstock, "The Green Mountain Festival of Words," is the Woodstock, VT's annual, summer literary festival. The event serves up features more than forty authors and poets of all genres – not to mention book fairs, workshops, and other special events in and around Woodstock village. July 26, 27, & 28, 2019.
Bibliophiles, wordsmiths, poets, and artists alike will find plenty to love at the 11th annual Bookstock Literary Festival. The annual three-day event swells the village with thousands of visitors and special guests. Including lots of best-selling and beloved authors.
Special Guests
A host of nationally and regionally celebrated authors are on the schedule for presentations, workshops, and readings on all three days of the festival.
Like who, you ask?
How about poet laureate of Vermont Chard deNiord, author and Former Governor of Vermont Madeleine Kunin, and "In The Wild" cartoonist Ed Koren, for a start? That's just 3 of the more than 40 authors, poets, and other literary luminaries who will be in attendance at Bookstock 2019.
(the full list of this year's visiting authors can be seen here)
Rare and Used Books
Bookstock isn't just rubbing elbows with famous authors, however. The festival also serves up two huge book sales!
The Norman Williams Public Library (10 The Green) will once again have a unique selection of fine vintage books up for offer. The Village Green will also host the extraordinary, annual used book fair with thousands of quality secondhand books at yard sale prices. Both sales events will be open Friday and Saturday, 9am to 5pm.
2019 Bookstock Special Events
Most of the festival events take place in and around Woodstock's village Green but there are some exceptions. Below is a short list of a few of the festival highlights.
Friday, July 26 –
Terry Osborne: Nature Writing Workshop
1pm at the Marsh Billings Rockefeller Education Center
Saturday, July 27 –
Marcelo Gleiser: The Simple Beauty of the Unexpected
10am at the Town Hall Theater
Ballet at Billings Farm: full-length performance
6:30pm
Sunday, July 28 –
Charlotte's Web: live-action adaptation
3pm at the Grange Theatre
Best of all, Bookstock is free and open to the public!
Bookstock 2019
July 26, 27, & 28
Woodstock, Vermont
Visit the festival website for more information. You can also follow this event on Facebook.
Woodstock VT Lodging
Deer Brook Inn is a historic Vermont bed and breakfast located in Woodstock, VT. Enjoy true relaxation in one of our 4 spacious guest rooms and suites. Our 1820's farmhouse provides en suite bathrooms, in-room heating/air conditioning, high-speed WiFi, and don't even think about skipping breakfast. Book your Vermont getaway at Deer Brook Inn today!