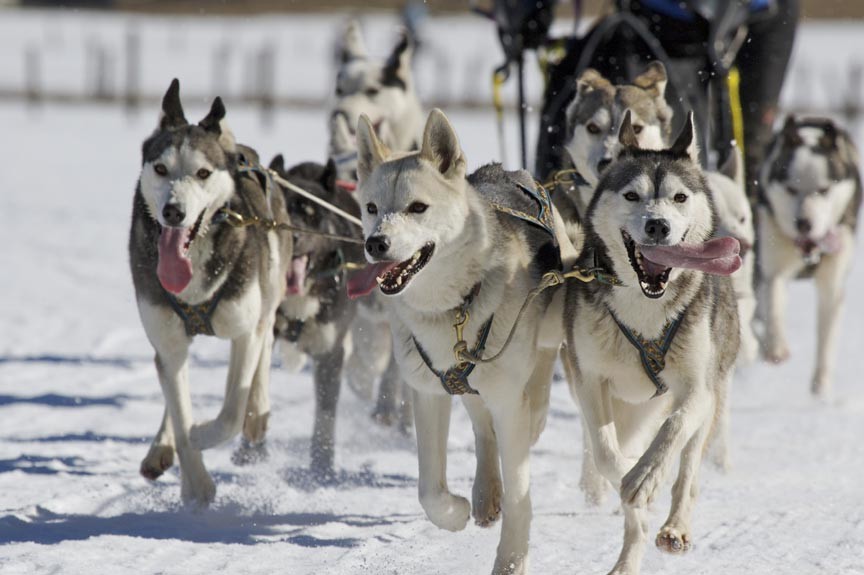 If you love dogs, snow, and the great outdoors, then you'll have the experience of a lifetime on a Vermont dog sled adventure!
Last post, we talked about the all the amazing Vermont skiing opportunities. This time around, we're here to tell you that skiing isn't the only way to get out into Vermont's winter wonderland. Not by a long shot!
Along with skiing, Vermont also offers many opportunities for snowshoeing, ice skating, sledding, sleigh rides, and fatbiking. One last winter sport that you don't hear a lot about – but that is an amazing experience – is dog sledding.
Hearing "dog sled," one's mind tends to go to Alaska's legendary Iditarod race. That, or perhaps to an abstract vision of some lone trapper mushing dogs through a blizzard in the frozen north. Wouldn't it be great if, from now on when you hear "dog sled," you could think of your own experience aboard one?
What many folks don't realize is, you don't have to go to Alaska or back in time to enjoy a dog sledding experience. In fact, Vermont is home to a number of dog sled tour companies, including one quite near our Woodstock VT B&B!
Braeburn Siberians Vermont Dog Sled Adventures
Braeburn Siberians is a Vermont dog sled company that offers a variety of tours every year, December through March.
A dog sled tour is a great experience. Not only do you get out into the great outdoors to go speeding through the snow, you also get to meet some fantastic animals! These dogs really, honestly do love their jobs and you can see it when they get up and going. These are some happy animals and you'll get to meet and interact with them up close.
Each Braeburn Siberians sled accommodates up to two passengers, one sitting and one standing. The sitting passenger enjoys the ride while the standing rider learns about, and can even try their hand at, driving or "mushing" the dogs. Passengers are allowed to take turns in the different positions during the tour, so no need to call out "shotgun" or flip a coin.
30 minute and 90 minute tours are available. You can also customize your Vermont dog sled tour for a special occasion. Marriage proposals, anniversaries, birthdays. There are even night dog sledding tours!
Braeburn Siberians Vermont Dog Sled Tours
Available December through March.
Learn more at www.braeburnsiberians.com. You can also visit them on Facebook.
Woodstock Vermont Lodging
Deer Brook Inn would love to serve as a home away from home for all your Vermont adventures. The Woodstock area is an excellent central location for skiing, shopping, sightseeing, hiking, biking, and much more. We offer four comfortable and welcoming guest rooms and suites with en suite bathrooms. Breakfast at our Vermont B&B is a culinary celebration of fresh and local dishes made from scratch. Come experience the good life at Deer Brook Inn!