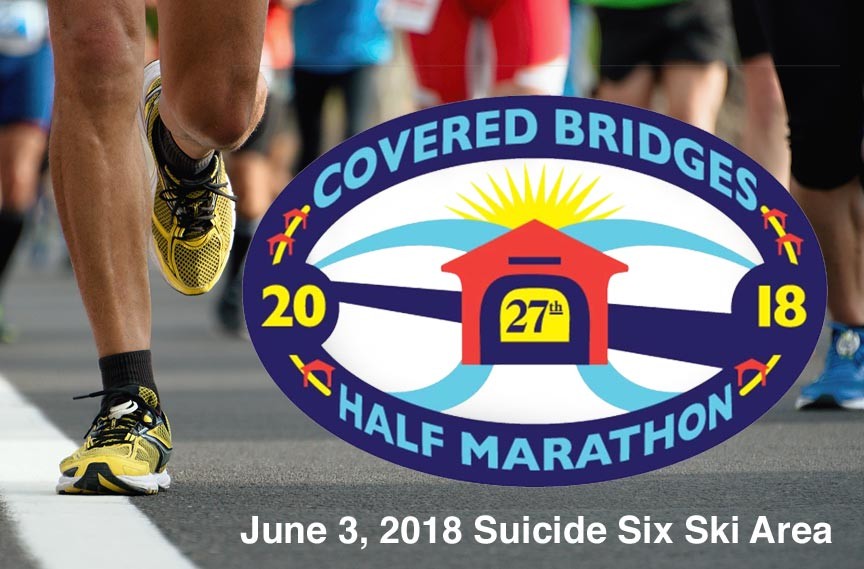 The 27th annual Covered Bridges Half Marathon, Vermont's premier half marathon, is just around the corner: June 3rd, 2018.
Vermont's popular, annual Covered Bridges Half Marathon, "the best 13.1 miles in New England," is held every year on the first Sunday in June. The race course starts at the Suicide Six Ski Area and follows a point-to-point course eastward through open farmland, along the Ottauquechee River. The finish line is at the Quechee Polo Field. The Covered Bridges Half Marathon is a USATF-certified course.
The race's course takes runners through three of the area's 7 covered bridges: Middle Covered Bridge, Taftsville Covered Bridge, and Quechee Covered Bridge.
Runners and spectators alike will enjoy the scenic, pastoral beauty of rural Vermont and its famed covered bridges. The course offers unusually gentle topography for Vermont, with a drop of 200 feet from start to finish. The course's two climbs, at mile 5 and 8, are not extreme but do tend to stand out.
Registration for the Covered Bridges Half Marathon begins six months in advance and always fills quickly. In fact, 2018's registration sold out in ten minutes! Those who missed the registration have another opportunity to participate via the Covered Bridges Half Marathon's official charity.
Whether you're coming to participate, spectate, or just soak up some of that great Vermont atmosphere, it should be a great race day!
Covered Bridges Half Marathon
Race Start: Sunday, June 3, 2018, 8:15am
Suicide Six Ski Area – 247 Stage Rd, South Pomfret, VT 05067
Read more details about Covered Bridges Half Marathon 2018 at www.cbhm.com.
Covered Bridges Half Marathon Lodging
Planning on attending the Covered Bridges Half Marathon Lodging? If so, consider lodging at Deer Brook Inn. Our Woodstock VT B&B is situated an easy 14 miles from the half marathon's starting line. Deer Brook Inn offers four stylish guest rooms, a two room suite, and fresh, organic breakfasts sourced from the neighboring farm. Book your accommodations now at Brook Farm Inn!