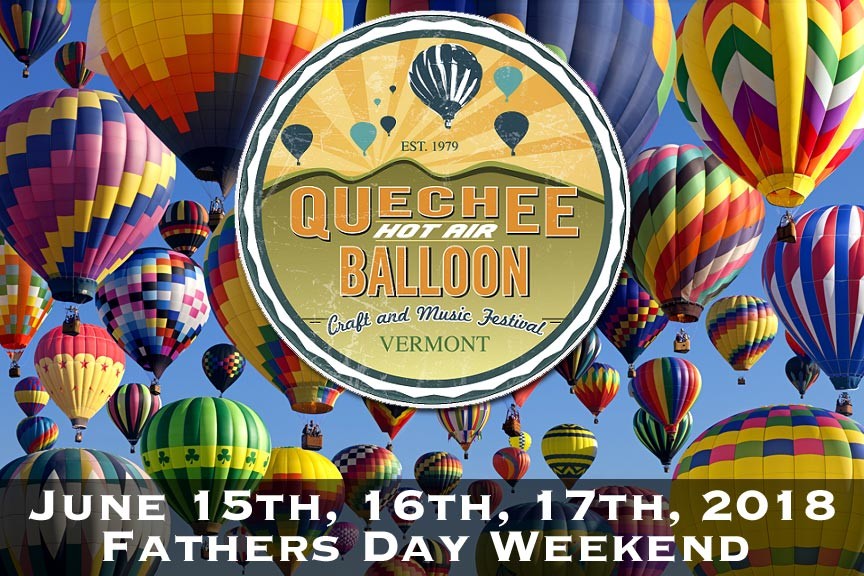 It's up, up, and away at the 39th Annual Quechee Hot Air Balloon Festival! June 15th, 16th, and 17th at the Quechee Village Green in Quechee, Vermont!
It's almost Quechee Hot Air Balloon Festival time again! If you've never been, this annual festival fills the skies over Quechee with colorful hot air balloons. We've all seen the occasional hot air balloon up in the air but there's a BIG difference between seeing one or two hot air balloons up in the air versus 20!
That's right – up to 20 hot air balloons will be at the festival! The balloons have five flights scheduled to occur throughout the festival weekend, including daily morning and evening ascensions. Further, each evening is set to feature a Balloon Glow (weather permitting).
Balloon Glows are when hot air balloons are launched at night and the light from their burners illuminate the balloons from within. Seeing these huge, colorful balloons up in the air at night, glowing, is a truly magical experience you won't soon forget!
Hoping to experience a hot air balloon ride? You'll have plenty of opportunities with both Tethered Rides and Ascension Rides available.
Tethered Rides will take you up some 50 feet with the balloon remaining tied to the ground. This si a great way for the less sure to experience their first ride.
Ascension Rides, on the other hand, is a full, free-floating, 2 hour experience. The balloons take off together and soar hundreds of feet in the air to land outside the festival grounds. Each Ascension Ride ends with champagne and transportation back to the festival.
Both experiences are wind and weather dependent – and are also likely to sell out FAST. Get your hot air balloon ride tickets online and ASAP.
The Quechee Hot Air Balloon Festival is not all just hot air balloons, either. Each day of the festival will have continuous music and live entertainment for all ages. You'll also be able to peruse the offerings of over 60 vendor booths selling both handcrafted and commercially produced goods. The festival's full name is Quechee Hot Air Balloon Craft and Music Festival, after all!
Other activities include Euro Bungee, a climbing wall, children's area, and much more. You won't go hungry, either. Festival food offerings will include plenty of local, healthy options. A beer and wine garden will also be on site.
Quechee Hot Air Balloon Festival
June 15th, 16th, and 17th, 2018
Village Green, Quechee, VT 05059
Visit www.quecheeballoonfestival.com for tickets and more details.
Quechee Hot Air Balloon Festival Lodging
The Quechee Balloon Festival is New England's longest running hot air balloon festival and, consequently, very popular. If you're hoping to attend, you'll want to acquire your accommodations now before they're all snapped up. Deer Brook Inn in Woodstock, VT is just 20 minutes away from Quechee Village Green! Our stylish, 1820's farmhouse inn offers the most comfortable accommodations you'll find outside your own home. And the breakfasts? You won't go hungry when you stay with us! Book your getaway today at Deer Brook Farm!