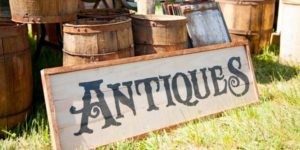 Spend the afternoon exploring lovely Woodstock Vermont Antiques. There are several great antique shops right in downtown, and many others within a short drive.  The selection of shops in the Woodstock, Vermont area can keep you happily shopping and looking for treasures for days.
Woodstock Vermont Antiques
Woodstock Market is a home furnishings consignment store known for some of the best treasuring hunting in the area, but that's not all… it's also home to two fabulous outdoor market events, Market Days & Junk Days.

Market Days are held the first Saturday & Sunday of each and every month and features the area's best artist, craftsmen, collectors and pickers with vendors arriving with everything from antiques to vintage; collectibles to handmade; metal art to architectural salvage; and unique to one-of-a-kind. While visiting, stop by the Market Café and try one of their freshly made sandwiches. Market Days is open Saturday 10am to 5pm, and Sunday 11am to 4pm.
Junk Days are held six times a year and are the best swap meets you'll ever experience, a real picker's paradise.  Upcoming 2018 Spring and Summer dates are: May 19th, June 16th, July 21st, August 18th, and September 15th.
Learn more at: woodstockmarket.squarespace.com/

Hillbilly Recycling is another picker's paradise.  The shop is an eclectic mix of used furniture and antique finds.  More info available on their Facebook page.
Ellaway's Attic, is a staple shop located in Historic Woodstock Village known by locals and frequented by visitors near and far. It's a lovely and unique shop filled with antique furnishings, home decor and special finds. For more info visit: ellawaysattic.com.
The Vermont Antique Mall at Quechee Gorge Village, located in the heart of the Quechee Gorge, just 20 minutes from the Inn, the village was originally a Woodsman Museum, Country Store, and Antique Mall. It has evolved into one of the premier shopping attractions in the State of Vermont and is loved by locals and tourists for its many stores. That's right… MANY, including the famous Cabot Quechee Store. What about the antiques?! The Vermont Antique Mall featurs over 450 booths filled with antiques, jewelry and collectibles, it's Vermont's largest and most popular antique mall and two time recipient of Yankee Magazine's Best of New England's Antique Shops. Learn more: vermontantiquemall.com
Woodstock Vermont Antiques
After a day's shopping Woodstock Vermont antiques, come home to the comfort of Deer Brook Inn. Our Woodstock VT B&B was completely renovated in the spring of 2016. Our inn offers four stylish guest rooms as well as a two room Suite. Each morning indulge in a unique breakfast experience featuring fresh and organic food products from the inn's neighboring farm before heading back out to explore more of Woodstock Vermont's attractions.