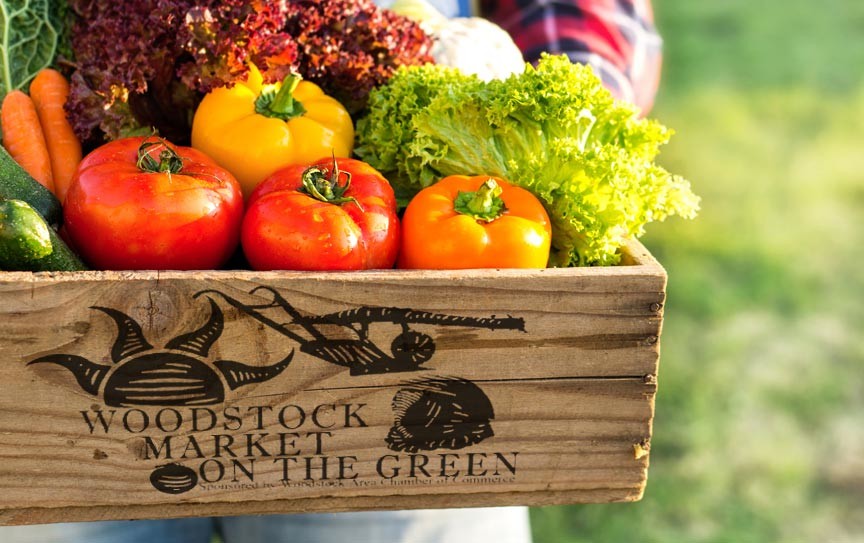 Enjoy a quintessential, New England village experience with a visit to the Woodstock Market On The Green. Farm-to-Table produce, handcrafted goods, ice-cream, live music, and a small-town, festival atmosphere. Wednesdays, May 30th through-October 10th, 3pm to 6pm, in downtown Woodstock, VT.
Woodstock, VT is a classic New England village with a charming central square, known as the Village Green. Village greens were once very common. These central grassy spaces were kept open for gatherings, celebrations, as well as grazing and watering livestock. The basic concept of the village green is still with us, we just call them "parks," now.
The picturesque Woodstock Village Green is a lush, green space surrounded by historic buildings. Centrally located, the Green is just steps away from downtown Woodstock shops and galleries.
Summer Wednesdays in Woodstock, this quiet, sprawling green space is transformed into a local artisan farmers market. More than 30 local vendors fill the space with their orderly displays. Cheeses, fresh produce, meats, ice cream, baked goods, and other prepared foods. The Woodstock Market On The Green also includes pottery, glass, woodcarvings, and other, locally handcrafted goods.
Experiencing Woodstock farmer's market is a summer must. You'll enjoy samples of fresh, local foods, chat with the farmers and artisans, and take home the highest-quality local foods anywhere. Deer Brook Inn is one Woodstock B&B that prides itself on using all the fresh, locally sourced ingredients we can. Many of our kitchen's offerings are purchased from the Market On The Green.
Further, Woodstock Market On The Green is more than just a simple farmer's market. The festival-like atmosphere makes market days a celebration, with live music every week, children's activities, and more. Shopping here is more of an event than your average visit to the market!
A variety of events are held on Woodstock Village Green throughout the year. The annual Lobster On The Green, for example, is a popular, summer lobster feast. Attendees enjoy a delicious lobster or chicken dinner, corn on the cob, coleslaw, watermelon, a cash bar, live music, and more. Lobster On The Green 2018 is currently scheduled for 5pm to 8pm, July 7th.
Woodstock Market On The Green
Wednesdays, May 30th through-October 10th, 3pm to 6pm, in downtown Woodstock, VT.
Woodstock Lodging
Deer Brook Inn, a Woodstock, VT B&ampB, offers offers distinctive yet casual lodging in 4 spacious guest rooms and suites. Enjoy en suite bathrooms, high-speed WiFi, delicious, locally-sourced meals, and so much more. Come soak up the casual yet distinctive atmosphere of our stylish, 1820's Woodstock farmhouse. Book your stay at Deer Brook Inn today!