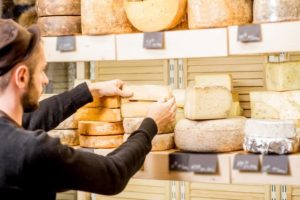 Spend a day exploring local cheesemakers on the Vermont Cheese Trail! The Vermont Cheese Trail has 50 stops spanning from the Canadian border down to Massachusetts, with many stops of the Vermont Cheese Trail located within in an hour's drive from Deer Brook Inn.
Below we've highlighted theses nearby makers that have tours, farm stands and/or retail shops that are open to the public.
There are many more makers that welcome visitors with appointments as well, view the Vermont Cheese Trail Map to explore ALL of the Vermont Cheese Council members.
Local Vermont Cheese Trail Stops
Blue Ledge Farm
2001 Old Jerusalem Rd, Salisbury, VT 05769. PH 802.247.0095
May-Oct: Fridays 8am-noon. All times happily by appointment.
Neighborly Farms of Vermont
1362 Curtis Rd, Randolph Center, VT 05061. PH 802.728.4700 or 888.212.6898
Shop Monday-Thursdays 9am-2pm, call ahead for tours.
Billings Farm & Museum
5302 River Road, Woodstock, VT 05091. PH 802.457.2355
May 1-Oct 31 10am-5pm. Weekends Nov-Feb 10am-4pm, as well as select holiday weeks.
Cabot Creamery/Quechee
5573 Woodstock Rd, Quechee, VT 05059. PH 802.295.1180
Jan-May 20 Monday-Saturday 10am-4pm. May 21-Oct Daily 9am-pm. Nov-December Daily 10am-4pm.
Plymouth Artisan Cheese
106 Messer Hill Rd, Plymouth, VT 05056. PH 802.672.3650
Winter 10am-4pm. Summer 10am-5pm
Crowley Cheese Company
14 Crowley Ln, Mt Holly, VT 05758. PH 802.259.2340
Monday-Friday 8am-4pm. Saturday-Sunday 10am-4pm
Grafton Village Cheese Company/Grafton
56 Townshend Road, Grafton, VT 05146. PH 802.843.1124
Retail store: 10am-5pm daily. Cheesemaking: Midweek, days vary (schedule at retail store)
Vermont Shepherd
281 Patch Farm Rd, Putney, VT 05346. PH 802.387.4473
Open: 9am-5pm daily
West River Creamery
1061 Middletown Rd, Londonderry, VT 05148. PH 802.824.6900
Open: 9am-4pm daily, Self-serve retail. Please call ahead for tours.
After a day of touring the Vermont Cheese Trail…
Join the innkeepers at Deer Brook Inn and other guests on the patio or in great room for an afternoon celebration with complimentary hors 'd oeuvres and local artisan cheeses, plus Vermont craft beers and fine wines available for purchase. It's the perfect time to share stories about the day's adventures as well as discussing dinner suggestions and reservations.