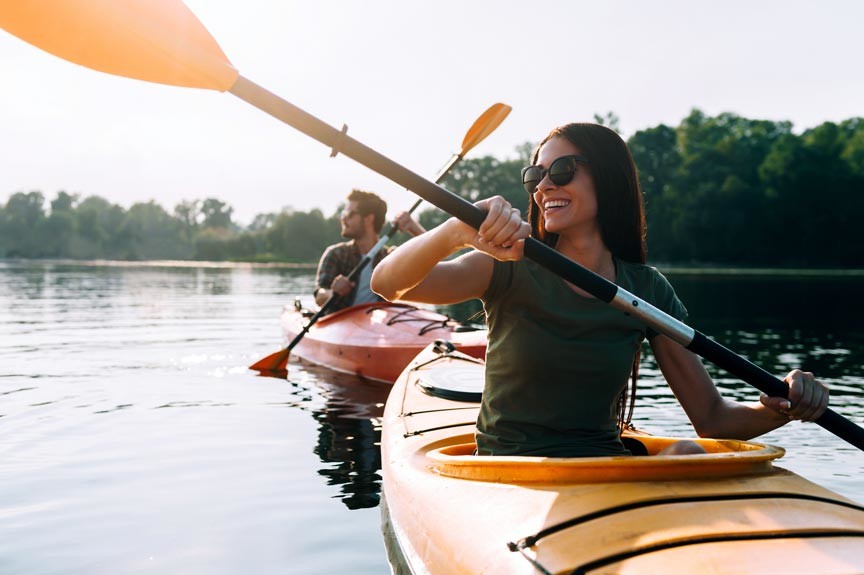 Summer is here and the weather is gorgeous. If you're looking for a way to get out into the great outdoors then you'll enjoy one of the variety of Vermont float trips offered by Great River Outfitters in Windsor, VT!
Vermont float trips are a wonderful way to get outside and soak up all that fresh air and sun. There's just something truly magical about being out on the water. All the natural beauty, wildlife, and picturesque scenery. Float trips allow you the option of a good workout or sitting back and letting the current do all the work. Plus, since you're on the water, it's easy to keep from overheating even during the hottest summer day.
Great River Outfitters is a local outdoor adventure outfitting company out of Windsor, VT. They offer a variety of both guided and self-guided Vermont float trips for all ages and skill levels. Canoeing, kayaking, rafting, river tubing, and stand-up paddle boarding (SUP) are all on the menu.
Self-guided float trips can be from 3 hours to as long as 8 hours long. The 3 hour trip starting from Sumner Falls may be their most popular and is great for beginners. The section of the Connecticut River you'll be out on is safe and easy to maneuver in, no matter your skill level.
For a more immersive outdoor experience, you can also go on their one or two day, overnight camping float trips. There's even a 3 hour, "Under the Stars," float trip ending with a bonfire, live music, and treats!
Great River Outfitters provide all the gear and transportation you'll need to get out on the water. Even better, Artisan Eats is in the same building and offers grab-and-go picnic meals for your float trip. You can even order your meal online beforehand and they'll have it ready and waiting for you!
Great River Outfitters is open for all seasons and also has fat tire bikes, tent camping, yoga, dog sledding, snowshoeing, sleigh rides, and more.
Vermont Float Trips
Great River Outfitters – greatriveroutfitters.com
36 Park Rd, Windsor, VT 05089 – 1-802-674-9933
Once you're done with your trip, head back to relaxed atmosphere of Deer Brook Inn. Our stylish, 1820's, Vermont farmhouse offers a low-rules, relaxed atmosphere for a personable, at-home feeling that will allow you to truly unwind. So go ahead: kick off those shoes, let your hair down, and join us on the patio for an afternoon celebration of artisan cheeses, craft beer, fine wine – or whatever suits your fancy! Book your stay at our Vermont B&B, Deer Brook Inn, today!