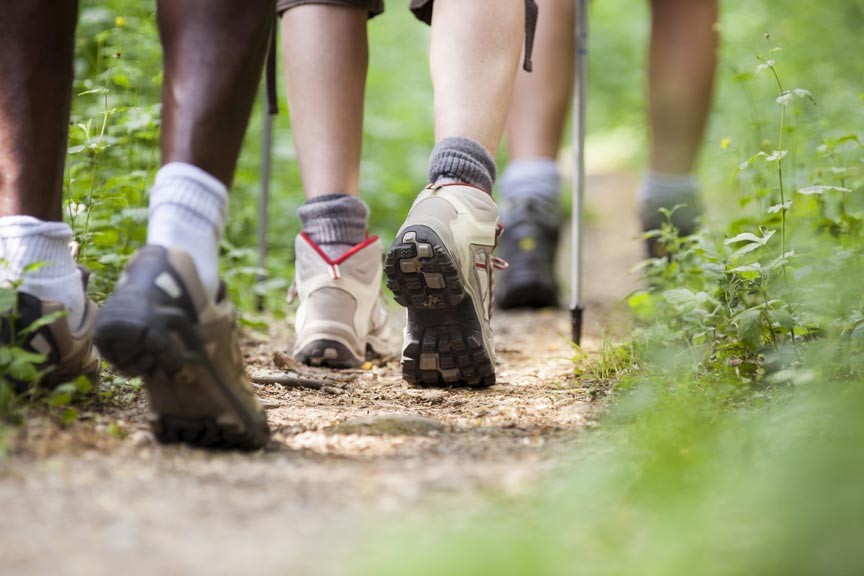 Did you know that Marsh-Billings-Rockefeller National Park has 600 acres of forest trails to hike and explore? June through October of every year, the park also offers a variety of free, fun, and informative guided hikes.
Marsh-Billings-Rockefeller National Park, northwest of Woodstock village, is the oldest professionally-managed forest in the country. It's also the only national park to focus on conservation history and the evolving nature of land stewardship in America (you can learn more about the park's history here).
The park is crisscrossed with over 20 miles of trails and carriage roads, which are open year-round, dawn to dusk, for hiking, skiing, and snowshoeing. A good portion of the trails are also open to horseback riding. Throughout the summer, the park service spices things up with a number of guided hikes and rambles.
Appalachian Trails and Tales
Come explore a section of the Appalachian Trail, extending from Maine to Georgia, on a 3-hour, ranger-led hike. Learn the history of a landscape that is one of the greatest examples of citizen stewardship.
Warblers, Woods, and Watersheds
Learn the process of monitoring the ecological condition of the park on this 2-hour hike. Join NPS Northeast Temperate Network staff and to discover the basics of monitoring birds, salamanders, forest health, and water quality.
The Future of the Forest
Explore the history and stewardship of Marsh-Billings-Rockefeller National Park on this 2-hour hike. Learn all about the the oldest professionally-managed forest in the United States and see some of the most unique aspects of the park.
Fall Foliage Walk
Feast your eyes upon the park's vibrant autumn foliage on this 2-hour, ranger-led walk along the park's historic carriage roads. Attendees will also be treated to the story of the Mount Tom Forest.
Boots and Breath: Yoga Hikes with Inner Lift Yoga
This 2-hour walking meditation in the woods, with pauses for instruction, incorporates elements of the natural environment.
Boots To Boats Adventures
Grab your boots and your paddle for a journey along the Appalachian Trail! Journey from Marsh-Billings-Rockefeller National Park to Saint-Gaudens National Historic Site in Cornish, New Hampshire along the Appalachian National Scenic Trail and the Connecticut River National Blueway.
Marsh-Billings-Rockefeller National Park
54 Elm Street Woodstock, VT 05091
Visit www.nps.gov for a schedule and more information on the park's guided hikes. Group sizes are limited, as are the dates of these hikes, so reservations are definitely recommended: 802/457-3368 ext. 222.
Woodstock Vermont Lodging
Let Deer Brook Inn be your home away from home whenever you're in the Woodstock area. Our 4 plush guest rooms and suites include en suite bathrooms, in-room heating/air conditioning, high-speed WiFi, and more – all within the charming surroundings of an 1820's farmhouse. Reserve your room today at Deer Brook Inn.