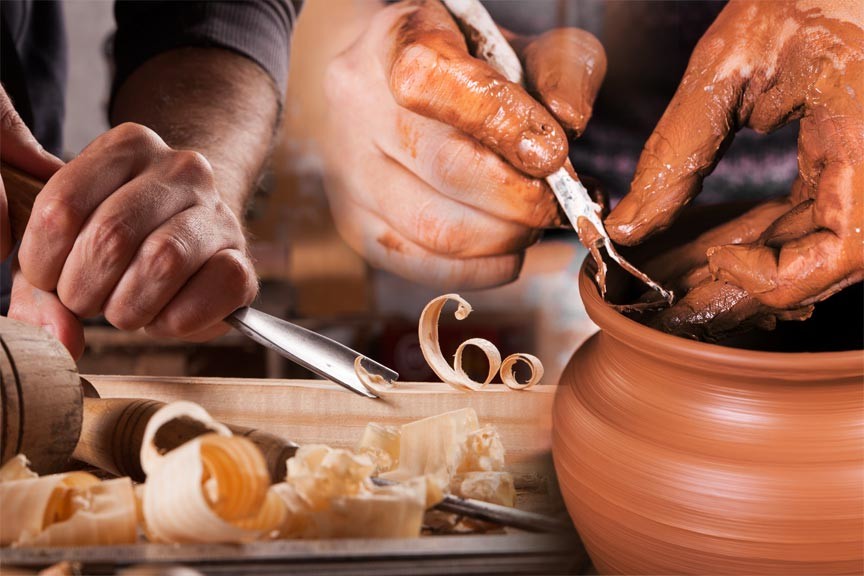 ShackletonThomas is a Vermont based company specializing in artisanal home furnishings collected by such luminaries as Arnold Schwarzenegger and Kofi Annan. Their Workshop Store, located at the historic Bridgewater Mill in Bridgewater, VT, is always worth a visit!
We've told you about The Mill at Simon Pearce – but that's not the only iconic showroom in the Woodstock area.
The ShackletonThomas Workshop Store in Bridgewater, VT is housed in the picturesque, 180-year-old Bridgewater Mill. Inside, you will find showroom, Furniture Workshop, and Pottery Studio. Visitors can peruse the exquisite offerings in the showroom as well as watch pieces being handcrafted to life through the windows of the workshop.
ShackletonThomas specializes in making fine handmade furniture, pottery, and accessories the old fashioned way: one by one and with extensive handcrafting. They are one of the few companies of this size in the country that still manufactures goods this way. ShackletonThomas has committed itself to preserving handcrafting traditions out of love and a fear that we are losing our ability to work with our hands.
The company founders are a husband and wife team. Charles Shackleton makes furniture and Miranda Thomas makes pottery. Of course, given the quality of their products, that is a bit like saying "Mozart wrote songs." These are not your average home furnishings. In fact, ShackletonThomas pottery has been presented to visiting dignitaries by a variety of sitting Presidents. I'm pretty sure IKEA can't claim the same.
Charles Shackleton was born and raised in Dublin, Ireland and honed his craft in England, at the West Surrey School of Art & Design. Miranda Thomas grew up in Italy, Australia, and England and began studying to pottery at the age of 16. She and Charles met at West Surrey School of Art & Design and the rest, as they say, is history.
Both Charles Shackleton and Miranda Thomas apprenticed in their craft with some of the world's most talented artisans. They continue this tradition through their company by using a similar apprenticeship process with their employees. Artisans at ShackletonThomas transition from beginners, to craftspeople, to masters in their craft over many years. ShackletonThomas also prides itself in hand-selecting locally sourced materials.
Is it any wonder that their goods can be found in the White House, the homes of Hollywood elite, and all over the world?
Tours of the Bridgewater Mill facility will take you through four floors of workshop space. You'll see everything from lumber storage to upholstery and finishing. You'll marvel at the amount of work that goes into each piece. Workshops offered at the facility go even further into the process. Some even include a tour of the forest where the company harvests its wood. Fascinating!
The next time you're in the Vermont's Woodstock area, do yourself a favor and stop by ShackletonThomas' Bridgewater Mill.
ShackletonThomas
102 Mill Rd, Bridgewater, VT 05034
Open Tuesday to Saturday, 11am to 5pm and Sunday, 11am to 4pm
Visit ShackletonThomas online at their website or on Facebook.
Woodstock VT Lodging
Our Vermont B&B, Deer Brook Inn, is less than 2 minutes down the road from ShackletonThomas in Bridgewater, VT! Deer Brook Inn's convenient location makes us the perfect lodging no matter what it is you're doing in the Woodstock VT area. The spacious comfort of our four guest rooms and suites will welcome you into the relaxation of your Vermont vacation as no hotel or motel ever could. Book your stay at Deer Brook Inn today!