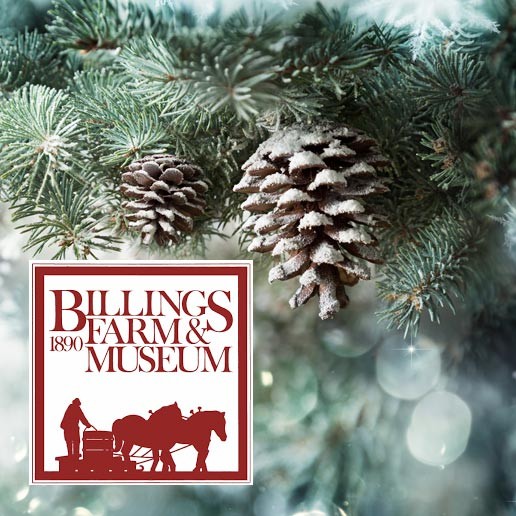 Celebrate Vermont's rural heritage and step back in time to a 19th century Christmas at Billings Farm & Museum. December weekends and December 24th through January 1st, 2017.
Christmas at Billings Farm & Museum demonstrates how our winter holidays were celebrated in the rural communities of the 1800's.
What many people today may not realize is that the United States did not universally celebrate Christmas until well into the 1800's. Our country's Puritan background had many feeling that such overt celebration was simply unchristian.
Christmas celebrations of the 1800's were much simpler than they are now, even after the day was declared a federal holiday.
Families celebrated with a few gifts and a gathering for a special meal but that was about it. There was too much to do each day that could not wait for a full day of eating, presents, and lounging about.
Billings Farm & Museum helps keep 19th century rural Vermont alive with all they do. An operating dairy farm right here in Woodstock, the facility focuses on rural life, work, and land stewardship based on the traditions and values of the 19th century.
During Christmas at Billings Farm & Museum, visitors will be treated to tours of the authentically decorated, historic farmhouse. The scent of holiday goodies baking in the cozy kitchen's wood stove will tickle your nostrils as you marvel at the simplicity of their decorations and lifestyle.
Visitors may also watch or partake in making 19th century Christmas ornaments, pomanders, snowflakes, or dipping candles. Many of the farm's interactive programs, such as Milking the Herd, will be available. You can also enjoy horse-drawn sleigh and wagon rides, weather permitting. Showings of the Academy Award® nominated film, "A Place in the Land" round out the activities.
Christmas at Billings Farm & Museum
December 3 – 4, 10 – 11, 17 – 18, & 24 – January 1 (excluding Christmas Day) 10am to 4pm
Billings Farm & Museum
Route 12 & River Road, Woodstock, VT
For more information on Billings Farm & Museum, be sure to visit them online at: www.billingsfarm.org.
Christmas at Billings Farm Lodging
Deer Brook Inn, is a Woodstock, Vermont B&B housed in a charming 1820's farmhouse. Our inn's historic exterior is stylishly merged with modern conveniences like en suite bathrooms, in-room heating/air conditioning, high-speed WiFi, 600 thread count sheets, and so much more. Book your stay at Deer Brook Inn today!