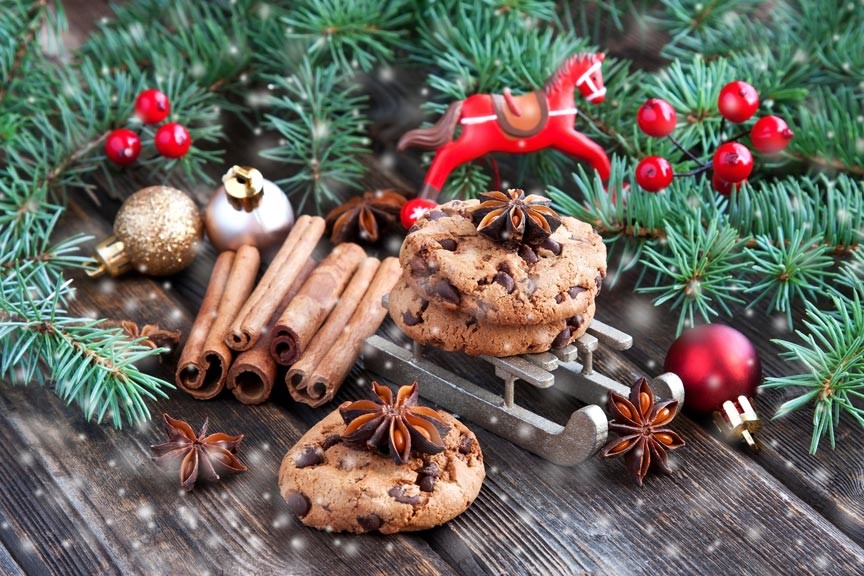 Kick off the holiday season at Woodstock Wassail Weekend 2017! The 33rd annual return of this beloved event promises a weekend of twinkling lights, historic home tours, a parade, Santa, and so much more! December 8th through the 10th, 2017.
Woodstock, Vermont's 33rd annual Wassail Weekend is a jam-packed, 3-day event of festive, holiday events and activities. Visitors come from all over to enjoy the festive, old-time atmosphere of Wassail Weekend. In fact it's one of the area's most popular seasonal events!
From the Wassail Parade and Christmas at Billings Farm to the annual Holiday House Tour and Messiah Sing, Wassail Weekend has something for everyone. If you love the holiday season – and who doesn't? – you do not want to miss Woodstock's Wassail Weekend 2017!
Woodstock Wassail Weekend 2017
Friday, December 8th –
Billings Farm & Museum Christmas at the Farm – 10am to 4pm
Come visit the Farm authentically decorated for the holidays! There will be holiday activities, interactive programs, and a screening of the Academy Award® nominated film, "A Place in the Land." Visitors will be able to make and take home historic Christmas ornaments.
Woodstock Elementary Schools Chorus – 4pm
Come out and enjoy this free, charming choral concert of Woodstock youngsters on the steps of the Norman Williams Public Library.
Woodstock History Center Open House – 5pm to 7pm
Discover the Woodstock History Center during the holidays with a tour, festive, seasonal music, and light refreshments.
Saturday, December 9th –
Breakfast with Santa – 8am to 11am
Kick off Wassail Weekend 2017 by enjoying breakfast with Santa at the Woodstock Little Theatre.
16th Annual Holiday House Tour – 9:30am to 2pm
Discover a Christmas past today with the annual Wassail Weekend Holiday House Tour! See some of Woodstock's most gorgeous and historic homes gussied up for the holidays. Docents will be at each property to answer your questions provide historical information. and answer questions. best of all, the last stop is a lovely hosted by the Prince and the Pauper Restaurant. Wassail Weekend Holiday House Tour tickets are available online.17/
Billings Farm & Museum Christmas at the Farm – 10am to 4pm
(see above)
Wassail Parade – 2pm to 4pm
One of the weekend's biggest highlights! Come enjoy the grand spectacle of the 33rd Annual Equestrian Parade. Jingle bells, clip-clopping hooves, and riders cheerily bedecked in Victorian era costumery around the Village Green. Grab a spot on the Village Green prior to the parade for the best views.
Lighting of the Memory Tree – 3pm to 10pm
Come watch as the holiday season comes to life with twinkling lights, a bonfire, caroling, and 400 luminaria on the Village Green.
Wassail Weekend Holiday Craft Fair 10am to 4pm
The annual, artisan craft fair at the Woodstock Masonic Lodge offers a wonderful, early holiday-shopping opportunity. Find great, one-of-a-kind, handcrafted gifts for friends, family – and even yourself!
Cello By Candlelight! With Eugene Friesen – 7:30pm
Come to Woodstock's North Chapel for an evening of Cello By Candlelight with Eugene Friesen. Tickets are $15 and will be sold at the door only, so arrive early.
Wassail Feast – 5:30pm
What better way to celebrate the coming holidays then with a festive Wassail Feast? Call for Reservations: 802-457-6620.
Christmas with the Celts 8pm to 10pm
Enjoy an uplifting, modern-ancestral holiday celebration hosted by international Irish music group, The Celts. Christmas with the Celts combines fiery new arrangements of modern seasonal classics with ancient carols dating as far back as the 12th century. Christmas with the Celts tickets are available online.
Sunday, December 10th –
Billings Farm & Museum's Christmas at the Farm – 10am to 3:30pm
All the activities of the past two days (see above) plus horse-drawn sleigh or wagon rides, assuming the weather cooperates.
Wassail Weekend Holiday Craft Fair 10am to 4pm
(see above)
Annual Messiah Sing – 4pm to 6pm
The stirring conclusion to Woodstock Wassail Weekend 2017 at Our Lady of the Snows Catholic Church. Louis Burkot directs a world-class ensemble and four featured soloists through portions of Handel's Messiah. Best of all, the audience joins in for the choruses!
Woodstock Wassail Weekend 2017
December 8th through the 10th, 2017
The above list covers most – but not all – of the events and attractions during Woodstock Wassail Weekend. Be sure to visit www.woodstockvt.com for even more information in this popular, annual event.
Woodstock Wassail Weekend Lodging
Deer Brook Inn's stylish, 1820 Vermont farmhouse awaits you and yours this holiday season and always! Come shop and dine in "the prettiest little town in America," then relax and enjoy yourself at our historic Woodstock farmhouse. Book your holiday stay at Deer Brook Inn today!