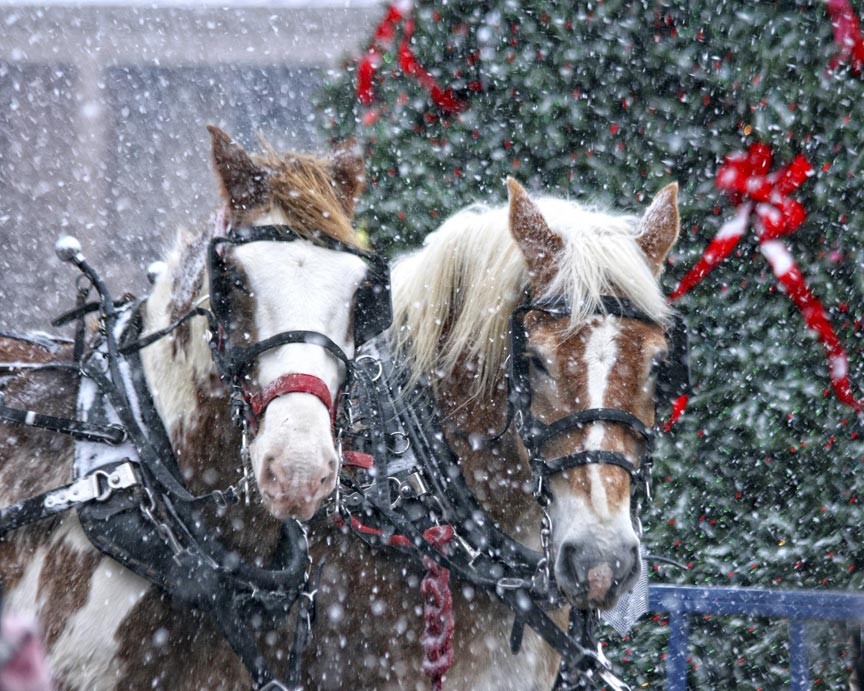 Come out to Woodstock, Vermont and help celebrate the Woodstock Wassail Weekend 2016! December 9th through the 11th, 2016!
Woodstock Wassail Weekend 2016 is a holiday tradition that sees town come to life with festive holiday events and attractions the second weekend of every December. The weekend's nonstop schedule includes a parade, concerts, craft fairs, holiday house tour, and much more.
Woodstock's old-world charm is undeniable, no matter the season. Being in Woodstock for the holidays, however, takes the town's delightful ambiance to new heights – and that's the Woodstock Wassail Weekend to a 't'!
The weekend has plenty to keep you entertained morning, noon, and night. The highlight, htough, has to be the Equestrian Parade, put together by the High Horses Therapeutic Riding Program. More than fifty horses and riders, dressed up in 19th century period clothing, make up the core of this wonderful parade. Also known as the Wassail Parade, this annual event begins after lunch on Saturday and runs all through downtown Woodstock.
The best spot to catch the Equestrian Parade is from the village green. It's widely known as prime seating, however, so you'll want to get there early, if you can!
Of course, that jolly old elf, Santa Claus, also puts in an appearance at the parade. Afterwards, he heads over to the Little Theater for the enchanting "Christmas Visions" children's program.
The special program put on by the Billings Farm and Museum each year is another favorite event of the weekend.
Always good for a visit, the Billings Farm and Museum goes all out in December. Special exhibits and demonstrations show how Christmas was celebrated in late 19th-century Woodstock. You'll see through historic farming exhibits, interactive crafts, and an 1890's farmhouse decorated for the holidays. Horse-drawn sleigh or wagon rides will also be available, weather permitting.
Saturday also sees the popular Holiday House Tours, open from 9:30 am to 1:30pm. Get more than a peep inside some of Woodstock's most charming houses, all decked out for for the holidays! Docents await you at each house with a wealth of historical information and answers. The Woodstock Holiday House Tour is self-guided and begins at the Woodstock Town Hall Theater.
Irish Christmas in America is another of the weekend's seemingly endless attractions. Scheduled for Saturday, December 10th, 8pm at The Woodstock Town Hall Theater, the performance features Irish ballads, instrumentals, and Irish dance as performed by some of the finest traditional artists.
Other attractions include the annual Woodstock Inn Wassail Celebration Feast and the Woodstock History Center Open House.
With so many wonderful events, you can see why the Wassail Weekend was voted one of Vermont's Top Ten Winter events. Don't miss it!
Woodstock Wassail Weekend 2016
December 9th, 4pm to 9pm; 10th, 9:30am to 6pm; 11th, 10am to 5pm
Woodstock Vermont Village Green
For more info: www.woodstockvt.com
Woodstock Wassail Weekend Lodging
Headed to Woodstock? Come relax in our stylish 1820 Vermont farmhouse. Our brand of upbeat and unobtrusive Southern hospitality will keep you smiling throughout your stay. Shop and dine in "the prettiest little town in America," then unwind at our charming and historic farmhouse. Book your stay at Deer Brook Inn today!